Etusivu > Tuotteet > Savunpoisto
ER Savunpoistopuhallin
Our range of professional roof extract fans is rounded off by new certified and DIBt approved roof smoke-extract fans. These models can operate for two hours at temperatures of 400 °C or 600 °C. Extraction rates of up to approx. 58,000 cbm/h are achieved with two times 23 types.
Smoke-extract roof fans of the lines RDM 56 and RDM 57 are provided for eliminating heat and smoke in case of fire especially in the first phase with usually high smoke content. They have to keep the escape ways smoke free, reduce damages, and ease fire fighting actions.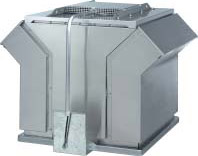 Suomenkielinen esittely tulossa pian...